Guraiz Valley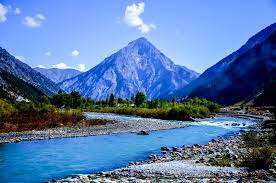 Posted On
Tourists in Pakistan should not miss the opportunity to visit the beautiful Gurajz Valley. It is beautiful in both summer and winter months.
The verdant green valley is densely covered with dense forest. Located high in the Himalayas, the Guraiz Valley is a true oasis among the icy white peaks.
Visitors will find it on the border between Gilgit Baltistan and Azad Kashmir.
Conflict
Unfortunately, the area is the site of regular territorial conflict between India and Pakistan, meaning that the Pakistani military controls access to the valley.
Fortunately, they allow tourists to visit the stunning valley on request.
As the crowning glory of Kashmir at an altitude of about 8,000 feet, Gurez Valley is full of beautiful sights like the roaring river Kishan Ganga, fauna and flora and mountains of poetic beauty.
This feast for the eyes has been around forever, but has never been on the Tourism map due to its remoteness.
And we're sure anyone will lose track of time while absorbing all that Gurez has to offer.
We are talking about the abundant rafting opportunities offered by the Kishan Ganga River from Gurez and Tilel; hiking trails; mountaineering; trout fishing; and more.
Adventure
Gurez is a unique adventure destination in North Kashmir and also serves as an entry point to the famous Silk Road across Central Asia.
The local people living in Gurez are Dards. They are hard working and quite educated to communicate with foreigners.
Gurez is blessed with breathtaking campsites where you can pitch your tents near the Kishan Ganga River. Whether you are a lover or not, you cannot ignore the incredible beauty of the pyramid-shaped peak of Habba Khatoon and the story behind its name.
It was named after the Kashmiri poet Habba Khatoon who lived about 500-600 years ago.
Saffron
Legend has it that once upon a time there lived in a saffron village named Chandhara a beautiful and intelligent country woman who was very interested in writing poetry and singing.
She was married to a peasant boy named Habba, but her married life was far from blissful. She was ill-treated by her mother-in-law and husband, and she wasted her talents for days.
She was once found by Yousuf Shah Chak, the Emperor of Kashmir, and was impressed by her beauty and artistry.
Even though the emperor arranged for her divorce from her husband and brought her home as his wife, they were not meant to be together.
Valley
Unfortunately, Shah Chak's arch-rival Emperor Akbar kidnapped him and imprisoned him for life. Devastated by separation from her husband, Habba Khatoon wandered through the valley and mourned her lost love near the peak that became famous after her sad demise.
Today her tomb can be found in Athwajan. Interestingly, veteran Bollywood actress Dimple Kapadia in her prime was supposed to shoot a film in this region but the plan could not work out.
Tourists can board SRTC and private buses from Srinagar to Bandipore during the day. There is an early morning bus service to Gurez from Bandipore.
Alternatively, jeeps can be hired from taxi stands in Srinagar and Bandipore. However, the Gurez-Bandipore road remains closed in winter due to heavy snow cover.
To solve this problem and promote tourism even during winters, Kashmir tourism and the state government have started helicopter services.
Helicopter service is available both from Srinagar at INR 3000 per person and from Bandipore at INR 2000 per person.
Travelers heading to Gurez from Srinagar can stop at Manasbal and Wular Lakes, the Peer Bubo Shrine at Razdon Pass and the magnificent views of the Kishan Ganga River.
Sources: Travellinglifestyles | Timesofindia